Back to top
News and Announcements
Yearbook Pre-Sale
Dont Forget to Pre-Order your yearbooks and secure your student shout outs and business advertisements by clicking below. We only ordered a limited # of yearbooks, so get yours before they are sold out. They are going fast! https://bit.ly/2WSRs0R

Home & School Connection Newsletter
November 2019 Edition

Yearbook Sales/Ads/Shout-Outs
Yearbook Sales are going on now! Limited # of yearbooks are being ordered so get yours now at the pre-sale price of $25.00. Additionally, use this form to also purchase your student shout outs as well as yearbook ads!!! Click here to order yours now, before they sell out!

2019-2020 Fall Festival Tickets Now on Sale
Get your Pre-Sale Prices for our Fall Festival by clicking the link below!

October Newsletter
Enjoy our Student Created, FOR Student Newsletter!

October Parent Version of the Reading Connection Newsletter!
October 2019 Calendar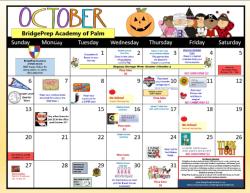 Sports, Clubs and Enrichment Offerings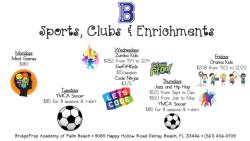 Check our menu of after school sports, clubs and enrichment offerings. For additional information, visit us at the main office or call us at (561)406-0709.
Website: www.bridgepreppalmbeach.com
Instagram: @bridgeprep_palmbeach
Twitter: @BPA_Palm
#BridgePrepAcademyofPalmBeach #BridgePrepSports #BridgePrepClubs #BridgePrepEnrichments

Trunk or Treat is October 26th!
We really need as many families as possible to set up their spot in our hallways to hand out candy to our little trick or treaters. You are asked to decorate your spot based on the theme you indicate on this form, and provide goodies to hand out. PLEASE, we need everyone to claim their spots!

We're using SignUp.com (the leading online SignUp and reminder tool) to organize our upcoming SignUps.

Here's how it works in 3 easy steps:

1) Click this link to see our SignUp on SignUp.com: https://signup.com/go/KGxVymp
2) Review the options listed and choose the spot(s) you like.
3) Sign up! It's Easy - you will NOT need to register an account or keep a password on SignUp.com.

Note: SignUp.com does not share your email address with anyone. If you prefer not to use your email address, please contact me and I can sign you up manually.

September 25th is Dads Take Your Child to School Day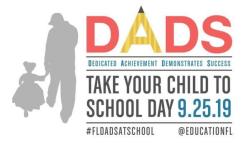 Dads Take Your Child to School Day is observed annually in September in Florida's schools this year it's tomorrow, September 25th. The Dads Take Your Child to School Day initiative serves to highlight and support fatherhood engagement in education by helping schools foster this important connection with fathers and father figures. Research indicates engaging dads, brothers, uncles, father figures, other significant male role models, and male mentors, increases student success in numerous ways.