Back to top
News and Announcements
Current Student Intent Form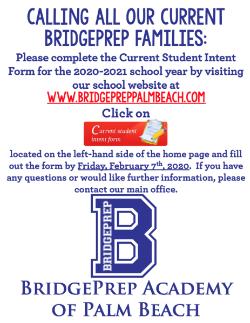 Calling all our current BridgePrep families:
Please complete the Current Student Intent Form for the 2020-2021 school year by visiting our school website at www.bridgepreppalmbeach.com. Click on the red button on the left-hand side of the home page and fill out the form by Friday, February 7th, 2020. If you have any questions or would like further information, please contact our main office.

Pre-Purchase your yearbook & shout-outs now!
January Calendar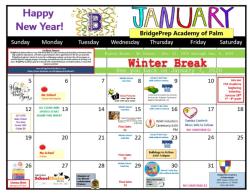 Please review the January calendar to become familiar with all of the important events going on around our campus. Happy New Year!

BridgePrep Academy of Palm Beach students will be undertaking kindness acts this January!!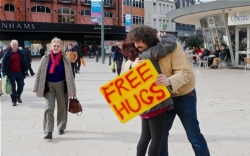 Students are asked to carry out acts of kindness and giving to others in their families and community – and to record these in a special "Kindness Diary" which each pupil will fill in daily which will then be signed by their parents.

Class Picture Day is Coming!

Class Picture day will be on January 8, 2020. Flyers will be going home soon!

Apply Today for 2020-2021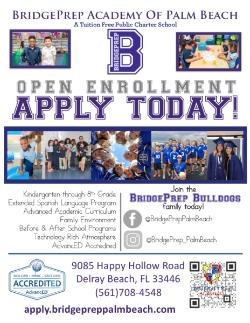 The new student application for the 2020-2021 school year is NOW LIVE!
Become a part of the BridgePrep Bulldog family.
Apply Today!
https://apply.bridgepreppalmbeach.com
Instagram: @bridgeprep_palmbeach
Twitter: @BPA_Palm

#BridgePrepAcademy #BridgePrepBulldogs #JoinTheBridgePrepFamily

Kyan's Kause- Give Miami Day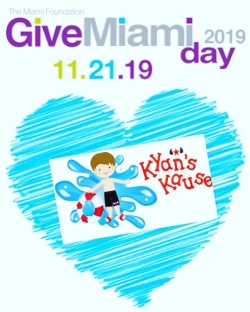 #GiveMiamiDay We are asking all our BridgePrep School Families to help Kyan's Kause continue to fund Swimming and CPR scholarships for Kindergarten and First grade BridgePrep students. You can support Kyan's Kause by donating at https://www.givemiamiday.org/BPAPalmBeach

#BridgePrepAcademy #BridgePrepStudentsLearnToSwim #BPASwimmingLessons

Kinder & 1st Grade Families
There will be a change in the afternoon dismissal procedure for all Kindergarten and First Grade car riders starting Monday, December 1,2019. When we return from our Fall Break all drop-offs and pick-ups will be in the back of the school carline. The office and front of the school should only be used for late drop offs and early pick-ups starting Monday December 1, 2019. Thanks so much for your cooperation in maintaining school safety. Have a wonderful Fall Holiday! You may call the office or ask your teacher if you have any questions regarding our new car rider dismissal procedure.

Yearbook Pre-Sale
Dont Forget to Pre-Order your yearbooks and secure your student shout outs and business advertisements by clicking below. We only ordered a limited # of yearbooks, so get yours before they are sold out. They are going fast! https://bit.ly/2WSRs0R

Home & School Connection Newsletter
November 2019 Edition