School Lunch Online Payment & Tracking Now Available!

You can now pre-pay for school lunches online with a credit card AND you can track every purchase your child makes!

Important CyberBullying Info


February Calendar


School Staff Needs & Wants Wishlist

In an effort to streamline the number of requests, we have created an Amazon wishlist. Use the link below to access. Lots of parents ask how they can contribute to the school and for those that lack time, this is the perfect way to help us out in areas of need. Every little bit helps, and as always, we are very grateful for everyone. Link is below:

School Lunch Online Payment & Tracking Now Available!
We are so happy to announce that the online pre-payment for school lunches is now available for all of our families to use.

3-7 Grade Magic Kingdom Trip
2nd Payment for Magic Kingdom trip is due by This Fri, Feb 8, 2019. Please use this link to pay online or send check or cash asap. Thank You!

BPA of PB honors MSDHS Victims through kindness!

BridgePrep Academy of Palm Beach honors the 17 victims of the MSDHS tragedy, one year later!

Take our Sons & Daughters to Work Day

Attached, please find important information regarding Take our Sons and Daughters to work day on Feb 1, 2019. Attached, please find info letters in English, Spanish, and Portuguese.

Now Seeking Interest for BIA Officers to start ASAP!

It is time for the BIA Nominating Committee to recruit Candidates to hold BIA Officer positions to start Immediately!

The goal of the nominating committee is to enlist the talents of as many BridgePrep parents, friends and family as possible. The nominating committee's responsibility is to consider all persons interested in a particular BIA position.

Please review the attached information and indicate any positions that you may be interested in fulfilling. You may also wish to recommend someone you think would be an ideal recruit for a particular office.

Save the Date!

Save the Date!

Show All »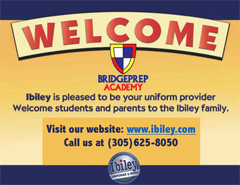 Buy your BridgePrep uniforms today!
Featured Albums
Red & Pink For Friendship Day

80s Day