Gala Information
I am excited to share with you some exciting information about our schools upcoming "under the lights" annual gala. I'm sure you've heard the buzzing about a hip new musical coming to town! Please join us for a one night only performance starring the students of Bridgeprep Academy in:
"At the Bandstand!" – An American rock & roll review! Join us as we sing and dance the night away with a lively production incorporating singing, dancing, acting, and a whole lot of fun tunes! All students are asked to participate in this event on Saturday, may 18th, 2019 at 6:00 PM at the West Boca Raton Marriot. Parents & guardians, we invite and encourage you to attend, as it will be an unforgettable evening jam packed with activities, music, food, fun and games!

Gala Performance attire
The students are diligently working towards the Gala Musical showcase, "At the Bandstand." We are very excited to present to you our musical on this special inaugural event, May 18, 2019 at 6:00 p.m, for those who purchased Gala tickets. The theme of our show is 50s fashion.

'It ain't easy bein green!'
In honor of the greenest week of the year, we have a special challenge for you! Jamba Juice and the Green Schools Recognition Program have teamed up to ask YOU, our GSRP schools, to showcase what you are doing this Earth Week to make a positive impact on the planet.

From April 22 to April 29, we encourage students and staff at GSRP schools to take part in an Earth Week action of your choice—the more creative, the better! Then, post a photo/video of your green action on Instagram for a chance to win free Jamba smoothies for your entire school! (All posts must include: #GreenisJambaGreat #GreenSchoolsRecognitionProgram #yourschoolname).

Absolutely AMAZING News!

BPA of Palm Beach is MAKING HEADLINES!!!!!!!

Gala End of Year Performance Audition Information

REFER A FRIEND TODAY!

I am so excited to announce the start of a brand new BridgePrep initiative.

Refer-A-Friend is an excellent way to spread the word about our awesome school, and allows both you and your friends to get something out of it.

Here's how it works:

1. Tell your friends and family members about BridgePrep Academy.

-Share our Facebook page
-Bring friends and family to school events

2. Direct friends and family to our application website. apply.bridgepreppalmbeach.com

3. Submit the refer a friend form to the front office, once they have applied and enroll, you will both receive five PAVE hours!

It's as easy as 1, 2, 3!

Don't Miss out on your Gala Tix!!!

Gala Tix are going like hotcakes! Dont miss out on your chance to be a part of this epic event. This is our biggest, most fun event that we do all year. If you havent already done so, check out our list of auction items we have so far at : https://www.charityauctionstoday.com/auctions/BPAPB-2019-Gala-7334

Franks Theater Tickets Fundraiser Starts TOMORROW!!!!!!

Who doesn't like going to the movies????????

Great Fundraiser for our school, please help us by selling/buying at least 2 movie tickets to Frank Theatres CineBowl & Grille, Delray, Delray at the same cost as the movie itself. The school will get $4.00 per ticket sold. 100% of these profits will go toward covering over the playground and/or basketball court!!!!! We can even take payment over the phone and mail tickets if necessary!!!

Mover Needed for School Donations

Good evening Bulldogs,

I am writing tonight asking for some help.

We were just notified that we have a full size Organ and a baby grand piano being donated to the school.

As you can imagine, as a once vocalist and pianist, this is so incredibly exciting to me to be able to spread the love of music just as I experienced it for over 40 years!

Both items are in Boynton Beach, however, before I put bids out to have these items moved by a professional, I wanted to find out if we could either get some parents together, or if any families had some mover contacts we could solicit.

It s a relatively short time frame (within a week) that we will need it transported here.

Any ideas or leads? Please let em know!

Thanks in advance. I've attached a picture of each item to this email! Thank you Ms. Hershon for securing these items.

Now Enrolling for the 2019-2020 school Year

Expanding to Kindergarten through 8th grade next year.

Show All »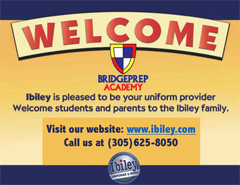 Buy your BridgePrep uniforms today!
Quick Poll
Will your child be participating in our Holiday Egg Hunt?
Yes (Will send in $2.00 cash)
No Thank You. Although this is a non religion specific egg hunt, my child would prefer an alternate activity during this time.
Poll is closed.
This is not a scientific poll.
Featured Albums
Red & Pink For Friendship Day

80s Day