2018-2019 Yearbook Pre-Sale

Yearbook Pre-Sales will begin on Monday, December 17, 2018

Families, we need your help!!!!

Even though our end of the year gala is still 5 months away, we have so much planning and organization to do! Please see the attached letter.

Pre-Order your BPA Sweatshirts Here

They will arrive around 12/28/2018

Purchase Discount SF Fair tickets, and Raise $ for our school!!!

The 2019 South Florida Fair is Friday, January 18 through Sunday, February 3.
Order tickets through the Partners in Education program, SAVE and earn money for your school!
• Adults (12+): You pay $10 ($20 at the gate Saturday & Sunday; $15 at the gate Monday through Friday)
• Seniors (60+): You pay $7 ($9 at the gate)
• Children (6-11): You pay $5 ($8 at the gate
• Children 5 and under are always FREE.
• Ride/Wristband*: You pay $20 ($25 at the gate Monday-Friday; $40 at the gate Saturday & Sunday)
• Gold Access Pass: You pay $10 ($12 Monday-Thursday, except MLK Day; $20 Friday, Saturday and Sunday)

Buying is easy.
Click on the BUY NOW button below.
1. Choose type and quantity of tickets, click "Continue".
2. Locate your child's school in the drop-down menu on the red screen.
3. Fill out the order form.
4. Submit your order.

Holiday Shop Officially Begins Tomorrow

Students had the opportunity to preview the items we will be offering for the Holiday Shop today!

Sun Sentinel Newspaper in Education

Welcome
to the Sun Sentinel & Orlando Sentinel News in Education website. NIE provides newspapers, lessons, online activities and links for classrooms and homes. Just click on a picture or link, and you can download resources and activities at your fingertips.

Get a Free Palm Beach County Library Card

Palm Beach County Library System Homework Help (en Espanol)

Homework Hotline
For FREE Help with Homework.....Available in English, Creole, and Spanish

Florida Standards Info

CPALMS is an online toolbox of information, vetted resources, and interactive tools that helps educators effectively implement teaching standards. It is the State of Florida's official source for standards information and course descriptions.

Attendance Matters: "Go to Grow"

Help Your Child Succeed in School!
Build the Habit of Good Attendance Early!
School success goes hand in hand with good attendance!

Show All »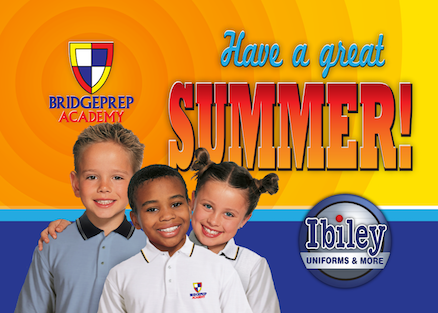 Buy your BridgePrep uniforms today!
Featured Albums
Trunk Or Treat 2018-2019

Dress like Your Favorite Disney Character Day, 2018