Back to top
News and Announcements
Chilis Fun Raiser night is tomorrow night!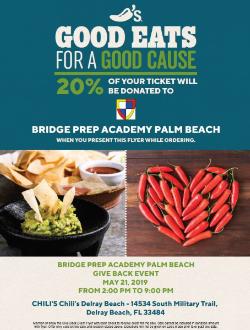 Help raise money for our school while having fun with your friends and family over dinner!

Field Day Volunteers Needed
Attached please find some great tips in how you can support your child's academic success.
Gala Update!
This is your last chance to get your 2019 Gala Tickets. Don't miss out on our biggest event of the year! Limited # of tickets still available! Order using the link below!

Gala Update!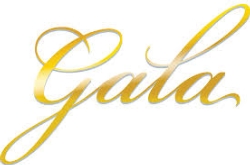 Good morning families,

We are ecstatic that our 2nd annual end of year gala is less than a week away!

We have so many fun and exciting things happening! Don't wait till the last minute to get your tickets. Once we hit 300, we will not be able to sell any more tickets. We still have a limited amount remaining!

Gala tickets are going super quick. Dont miss out. Use the link below to order your tickets.
https://secure.educationalnetworks.net/apps/s/index.jsp?ech=www.bridgepreppalmbeach.com&f=10177

Auction preview & pre-bidding:

https://www.charityauctionstoday.com/auctions/BPAPB-2019-Gala-7334


Gala Update!!!
We are so excited to let you know that we just returned from the Marriott, and our Gala is now finalized.
We know you will enjoy all of the activities, including the professional photographer, photo booth, DJ, auction, Wine Table ($20 flat price for ANY bottle), cash bar, Gift Card Wall, etc.
You can also look forward to 3 roaming white glove appetizers from 5-6 which will include:
1. Chicken Pot stickers
2. Grilled Cheese bites with chilled tomato soup chaser
3. Bruschetta

For Dinner you will get to enjoy:
1. Asian Stir Fry Station
2. Italian Pasta Bar
Kids will enjoy their very own kids buffet featuring all of the kids favorite foods.
All non-alcoholic beverages are also included.
Finally, you will enjoy a full Viennese Table providing some of the most delicious desserts you will ever have!!!!!
Don't miss out on your tickets as they are going fast! All adults are $60 while all BPA students are Free (Even for our families with multiple children). We would like to see each of our families join us for our 2nd annual gala!!!
Purchase your tickets online right here:
We wouldn't miss the gala for the world. Please bring me to the ticket purchase site!
-Mr. Sirota

Attention Bulldog Moms & Mother Figures!!!
Good evening Bulldog Moms!

First and foremost, happy early mother's day! We know just how important your jobs are and how much work and dedication is involved, so we have decided to give each and every BPA of Palm Beach mom or mother figure a special treat. Your child will bring your treat home with them on Friday, so be on the lookout!

We are confident you will enjoy your special treat!

Enjoy your time with your kiddos and the rest of your families! Although we celebrate moms every day, this is one day that is especially for you! Enjoy!

Sincerely,
Paul Sirota, Principal
& The BridgePrep Academy of Palm Beach Staff

Future Bulldog Families!
Good evening future bulldogs,

We realize that work, children, and life in general consumes a lot of our time. We also realize that it isn't always possible to complete our daily tasks with the amount of time given in any day.

We are happy to open our office this Saturday and Sunday from 9 AM until 12:00 PM for your convenience in order to accomplish the following:

1. Pick-Up Your registration packet for those of you accepted already
2. Submit your packet for those of you that have already picked them up (We can accept packets for all grade levels, even without the medical forms, with the exception of Kindergarten). If you are 1st through 8th grade, you can submit your packet minus the medical forms for the time being. Kindergarten MUST have all medical forms completed by your physician before submitting the packet.
3. Pick-Up AND Submit your packets assuming all documentation is present.
4. Purchase this year's design spirit shirt at a discount (Normally $11.00, on sale for the next week for $6.00). Why not start showing your bulldog pride early!!!
5. Ask any questions you may have with direct contact with the school's principal.
6. Show your child around their new school without distraction.

Please reply to this email if this is an opportunity you wish to take advantage of. Remember, it is only when your packet is complete and submitted will your child's spot be locked in and guaranteed!

We look forward to meeting you and your family very soon.

Respectfully,
Paul R. Sirota, Principal

Atention all families attending the Miami Seaquarium Trip!!!
Good afternoon Kindergarten – 2nd Grade Parents,

We know that you are as excited as we are to have our students experience the wonders of the Miami Seaquarium on May 21.

Since we have a lot of parents attending and acting in a chaperone capacity, we would like to meet with all parents of students attending the trip, on May 20 at 5:30 PM in the cafeteria.

We will be going over a lot of information, so please, if you are able to, we would appreciate your attendance at this informational meeting.

Thank you in advance and we look forward to seeing each of you on the 20th!

Thanks and have a great evening.

Mr. Sirota, Principal

Attention all Parents!!!

Attention All Parents:
BridgePrep Academy in conjunction with the Children's Services Council of Palm Beach County are providing each and every student with 1 free book in order to encourage reading during the summer. These books will be going home next week. Please see the attached flyer for more information! Enjoy the books! :-)

Teacher Appreciation Week!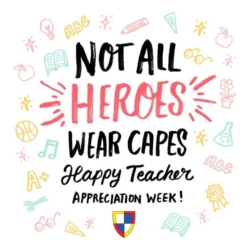 It's one of our favorite weeks, it's Teacher Appreciation Week!
Thank you teachers for all that you do for our students, families, and our school!
#ThankfulBulldogs #BridgePrepAcademyofPalmBeach #BPAofPalmBeach #OurTeachersRule #BridgePrepBulldogTeachers #WeLoveOurBPATeachers