Back to top
News and Announcements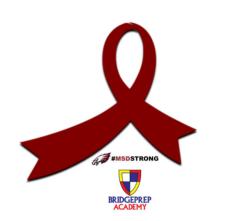 BPA of PB honors MSDHS Victims through kindness!

BridgePrep Academy of Palm Beach honors the 17 victims of the MSDHS tragedy, one year later!
Dear Bulldog Families:
BridgePrep Academy of Palm Beach is honoring the 17 Marjory Stoneman Douglas High School victims by encouraging students, staff and the community to engage in 17 Acts of Kindness leading up to February 14.

The acts of kindness, which begin on January 29, are appropriate for children and adults to make simple gestures to unify the community and show gratitude, respect, and love.

Administration has suggested acts of kindness, such as sending a classmate an uplifting note, collecting books or school supplies to donate to a classroom, thanking a police officer, leading a campus clean-up or even just paying a compliment to someone.

Participants may share their acts of kindness on social media using the hashtag #StrongerTogether and #17ActsofKindness.

In addition to the acts of kindness, BridgePrep Academy of Palm Beach will also have a commemorative Crepe Myrtle tree planted on our campus. The tree will represent living tributes to the victims.
Respectfully,
Paul R. Sirota, Principal