Back to top
News and Announcements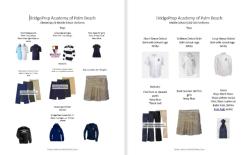 Important Uniform Policy Reminders!

By November, it is expected that all BPA students are 100% completely in uniform every single day.
Please note that Thursdays are the ONLY day that the navy blue spirit shirts are allowable. Wednesday's are the Middle School Leadership Day Uniforms. And only the Fridays on the monthly calendar are "no uniform" days. At all other times, all students are expected to be in their full uniforms, with shirts tucked in 100% of the time!
Parents,

Attached, please find the BridgePrep Dress Code policy. I have also attached an image in what all of our acceptable uniforms look like.
Particularly, Middle School Parents, please be aware of the LEAD(ership) day uniform policy at the bottom. We have been very flexible as Ibiley is sometimes slow in their shipping, however, by now, everyone should be in dress code 100% of the time.
If your child gets cold easily, please purchase a BPA sweatshirt (sold in the office) or a jacket or cardigan (ordered through Ibiley) as no other sweatshirts, jackets, or hoodies of ANY type are permitted. Administrative detentions will begin for any students failing to adhere to our uniform policy.
If you have any questions, please feel free to ask!